We invite your company to participate as an Exhibitor and Educational Sponsor of the 2013 Hambletonian Continuing Education Seminar & Trade Show for Equine Veterinarians, taking place on Thursday, August 1st and Friday, August 2nd, at the Sheraton Meadowlands Hotel, adjacent to the Meadowlands Racetrack in East Rutherford, New Jersey, just across the river from New York City.
Established in 1999, our meeting is now one of the largest and most-respected regional equine veterinary CE meetings in the country. It annually attracts over 200 equine veterinarians and 45+ exhibitor/sponsor companies.
Our events offer expert instructors from leading institutions across the country, speaking on a broad range of cutting-edge topics. To see what our meeting is like, please click on the 2013 CE Wet Labs Agenda and the 2013 CE Seminar Agenda.
Our meeting and trade show provide the ideal environment for companies to promote their equine product lines and services. Sponsorship opportunities range from having an exhibitor booth at the all-day Seminar program to sponsoring a Wet Lab and/or a Seminar lecture. All sponsorship plans are customized to fit each sponsorship partner's needs and budget.
Our meeting works differently than many other CE meetings:
The full-day CE Seminar/Trade Show is free to participating veterinarians. There is a generous amount of face time with the vets during the 1 hour Registration/Continental Breakfast, 2 hour Buffet Luncheon, and 2 half hour Refreshment Breaks.
Our basic exhibitor fee includes: booth size up to 10' x 10', a 6' skirted table with chairs, electrical connection, and all of the above meals and refreshment breaks. Booth space is reserved on a first come first served basis.
The exhibitor fee also includes participation in our CE Seminar Dinner. Every year we bring approximately 250 veterinarians and exhibitors/sponsors to the Meadowlands Racetrack to enjoy an evening of dining and racing.
If you are interested in joining our select group of exhibitors for the 14th Annual Hambletonian Continuing Education Seminar, and/or would like more information, please click here to download a copy of the 2013 First-Time Exhibitors Pre-Registration Form.
Please note: Past exhibitors will be contacted with a renewal proposal.
It is not necessary to send in a Pre-Registration Form.
PHOTOS FROM HAMBLETONIAN CE WET LABS & SEMINAR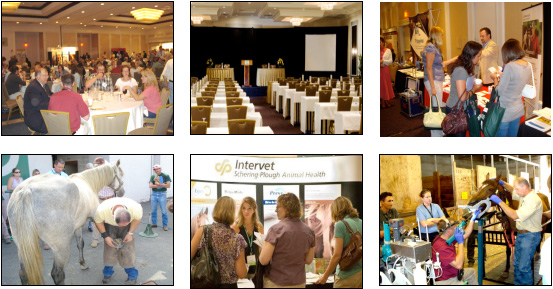 PLEASE CLICK HERE TO DOWNLOAD OUR
2013 FIRST-TIME EXHIBITORS PRE-REGISTRATION FORM